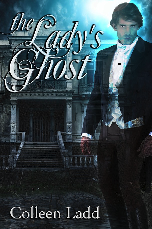 The Lady's Ghost

Ashburne Hall is decaying, the tiny staff is hostile, the money is running out, and then there's the ghost. Portia has no choice but to try making the Hall livable; the last thing she needs is some so-called ghost trying to drive her out, even if seeing him does take her breath away, and not because she's frightened.

Ten years ago, Giles Ashburne fled after being accused of murdering his fiancee. Now he's come back to the Hall to find evidence to exonerate himself. He didn't expect to find it occupied, or for the chit to be so blasted stubborn. Or beautiful. If she keeps trying to catch him out, she's going to get him killed. Worse, if she doesn't stop trying to prove him innocent, she's likely to get herself killed. That, he's growing to realize, really would be more than he could bear.


Available from: Amazon
Not currently available from Barnes & Noble or iBooks, but will be back up in those stores in August 2015.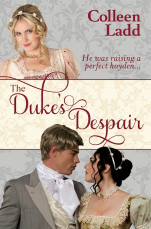 The Duke's Despair

The Duke of Ransley despairs of getting his ward safely launched. She'll be lucky to make it through her first Season without permanently blotting her copybook. He's somehow managed to raise a perfect hoyden, and fixing that will take some doing. But he doesn't need the help of some marriage-mad woman using his ward to get close to him.

Althea Ravenshaw has neither the need nor the desire to marry. Her heart goes out to Ransley's ward, saddled with a fire-breathing dragon of a guardian, and she can't help trying to keep the girl out of trouble. Someone has to, for Ransley clearly isn't equal to the task.

Neither of them realize that someone is deliberately trying to ruin the girl, someone who will stop at nothing to send Ransley and his ward packing. And he has no objection to including Althea in his plot if she continues to interfere. If Ransley and Althea do not use all their wits, and find the will to actually work together, they will have something far more important than a reputation to despair of.


Available from: Amazon